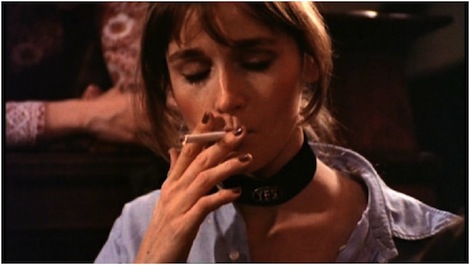 Part I: The History of the Slasher
The slasher is a type of horror movie that borrows liberally from the giallo tradition. Characters are already marooned in some way, already cut off from social and emotional safeguards. Slashers often occur on isolated campuses or campgrounds. They occasionally occur in other "bottles": on an airplane, in a small town or cabin, on an island (or resort), in a hospital or prison, on an Internet messageboard, in an orphaned spaceship, on Antarctica (please see also). If law enforcement is involved, it is either an incompetent organization or somehow "in on it." (The "Satanic Panic" of the late '70s and early '80s relished in the notion of down-home "conspiracies.")
In the "slasher," an entire ensemble is systematically whittled, by either a single killer or a small murderous "club," until a last character—usually a "final girl"—remains.
The onus falls on that last character, as part of his or her endgame, to thwart the alien threat. She must set the chaos "right." And for extra motivation, the Final Girl must also spend the last quarter of the movie tripping over the corpses of her missing loved ones, all of whom have met heretofore-unseen, grisly ends. (Black Christmas [1974], my very favorite slasher, has an especially titillating reveal: the killer's first victim has all along been dead in the sorority house's attic.)
The "pile-o-bodies" revelation is an important one: horror movies are almost always driven by guilt, even if this simply means "survivor guilt."
By movie's end, though, the Final Girl's "success" typically needs to be underscored as unfulfilled or incomplete. Any just-before-the-credits "jump scare" will do it: some Jason emerging from placid waters, or a Freddy popping through a doorway, or a ghost appearing in a mirror, will establish the Final Girl's ultimate failure. How else to have audiences leave satisfied but unsettled? (And how else to develop a horror franchise? How else to raise the stakes for some supernatural villain's return?)
But convention dictates—and don't get me wrong, any pop scholar is already familiar with this trope—that slashers must enforce a black-and-white, often anachronistic value system. The bare minimum of wrongdoing—having premarital sex or an extramarital affair, dressing skimpily, bullying the main character, gambling, drug addiction, vanity, or chewing bubblegum during class hours—tacitly suggests a sure and gruesome fate down the line. Even the least-studied of viewers can usually anticipate which of the cast will "die," and in an inevitably precise chronology. (There are other gnostic signifiers, too, like whether ensemble characters have full names; even Star Trek marked its character-fodder with red shirts.)
There's a reason for this inbuilt value system, and it isn't even to preach to the audience: it's to absolve the viewer of her very guilt. The average viewer, for all her personal idiosyncrasies, is morally binary. Nobody wants to see an innocent character killed, same as no rightheaded person can stand to see a dog murdered. So when a character "earns" his death—even if the "morality" of the death is a type of cheat—the average sane audience member is all too willing to enjoy the subsequent moment of comeuppance.
The "slasher" enjoys myriad genre variants of its own, of course: zombie, alien, robot, haunted house, disease pandemic, demon exorcism, chain letter, dinosaur, and so on. Nonetheless, all of these subgenres rely on three things: an "unseen killer," a "bottle" environment, and a "final girl."
And even so, all these tropes can be inverted, subverted, perverted, or otherwise undermined.
Satires like Scream, or many science-fiction movies, use the "final girl" trope to effective advantage: in 1979's Alien, for instance, there is no real indication at the outset that Ellen Ripley will live. For one, the actor playing Ripley—Sigourney Weaver—is a relative unknown. (Or at least, she's no Tom Skerritt.) Moreover, the Ripley character cannot be called the most "competent" or "ethical" of the Nostromo's crewmembers. Consequently viewers must wait until the last possible moment for resolution wherein Ripley is finally named sole survivor. Until that revelation, though, Alien maintains a white-knuckled tension: no one crewmember is more likable than another, and if you aren't taking Alien's many sequels into account, Ripley's survival comes as something of a surprise. (She survives even at her most vulnerable, too: she is down to her undergarments and whisper-singing, as if in a fugue of psychological, lyrical word-salad, "You are my lucky star. Lucky, lucky, lucky.")
Other contemporary directors play with the "final girl" trope, too. One director who is particularly adroit at genre play is Kiyoshi Kurosawa, while another is named Brad Anderson (director of the ghostly horror Session 9, the time-travel rom-com Happy Accidents, and his best-known, The Machinist). Even David Fincher is adept at subverting the trope: in movies like Fight Club, Seven, and The Game, the killer often reveals himself as not only the Final Girl's ally, but also as, in whatever way, a "benevolent" killer.
In other movies, like Dawn of the Dead or Night of the Comet, the trope of the "bottle" can be switched to something as provincial as a shopping mall. In fact, the simplest shortcut to social satire is by switching the bottle to any unexpected setting: a hotel, a school bus, a church.
For any horror aficionado, cataloguing the "slasher" visionaries is simple. You might name John Carpenter, George Romero, or Tobe Hooper, right along with Kinji Fukasaku (Battle Royale). They are all linked in that, instead of establishing only one "unseen killer," these movie directors explore environments that are populated with five, ten, a hundred killers at once. (How do you name a single killer when they are all Spartacus? Isn't that idea much more horrifying?)
But none of this is intended as over-praise. In fact, I'd venture, it's easy enough to avoid a by-the-numbers horror movie. Any quirk, any circumvention of the preexisting "ruleset"—whether the Final Girl of Haute Tension, the underground caves of The Descent, the sewers of Marebito—can be interpreted as somehow transgressive. It is very, very easy to break any of these normative rules and to be subsequently applauded by international audiences.
Up next: Part II, a brief history of people being cut in half!